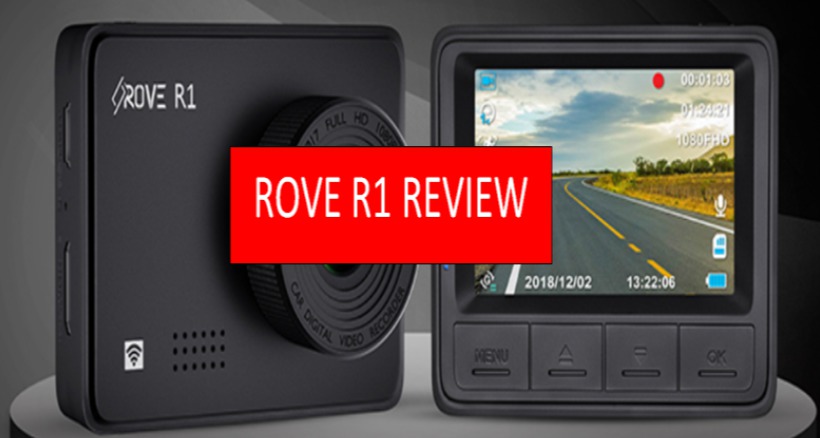 Welcome to our Rove R1 Dash Cam Review: This tiny dash cam is feature rich, compact, powerful and affordable. This dash cam belongs to the Rove family that offers the Rove R2-4K dash cam and the Rove Stealth 4K dash cam. ROVE is known for it's compact design and this dash cam is no different. It's compact design means that it would not obstruct your view in any way and it has a 150 degree wide angle lens. So you can easily monitor the roadway and be rid of those blind spots. The Rove R1 dash cam is easy to install and it begins working automatically, one the camera receives power.
Rove R1 Dash Cam Review
The Rove R1 is a 1080P dash cam that comes equipped with the Novatek NTK96658 Processor, and the SONY IMX323 Sensor. Coupled with the wide dynamic range technology, this particular processor and sensor allows the Rove R1 to deliver great image quality, along with crystal clear full HD video recording, during the day and night.
Features at a Glance
2.45″ LCD Display
150° Wide Angle
Built in Sony CMOS Sensor
WDR, 360 rotatable mount
Parking Monitor
Loop Recording
Motion Detection
G-Sensor, 128GB SD Slot
Along with all the other great features, this dash cam also has built-in Wi-Fi and super capacitor.
Built-in Wi-Fi
With the built-in Wi-Fi, you can use the Rove app to view your dash cam's recordings and manage the settings on your dashboard camera from your iOS and Android device. Using the App allows you to download your recorded HD quality videos directly to your smartphone, which you can easily share with your friends or family or on social media.
Super capacitor
The car dvr driving recorder is equipped with a built-in supercapacitor, which is much more durable and safer than normal battery and allows the dash cam to function better in high temperatures. This ensures your dash cam has a longer life span.
Loop Recording
With the Rove R1, video can be recorded in 1,3, 5, or 10 minute intervals. New recordings will automatically overwrite the oldest and unimportant recordings, when the memory card reaches the storage limit. This dash cam supports up to 128GB Class 10 – U3 speed micro SD card. However, the memory card is not included.
Gravity Sensor & Optional GPS
The built-in 3 axis G-Sensor, allows the Rove R1 to automatically detect any sudden collision and lock the footage to prevent it from being overwritten. The GPS tracks your driving route, location, speed so you have those details in the event any incident occurs. To use the GPS function, you need to purchase the R1 external GPS logger separately.
PROS:
Very affordable price
Built-in Wi-Fi
Super capacitor
Time-lapse feature
360 rotatable mount
Easy to install and set up
CONS:
The manual could use better translation
Warm Tips
You definitely want to format the Micro-SD card in the dash cam before using it. Once you've done that, simply restart the camera. If you don't do this, the camera will give you an error message of "wrong or bad memory card." If you do get that message, go into the camera's system setting to format the memory card.
Recommend SD card: SAMSUNG Class 10, U3 Speed Micro-SD Card.
Overall, the Rove R1 dash cam is affordable and functions well. Even though it's a small dash cam, that provides front coverage only, this 1080P HD dash cam has great features.
In Case You Missed it…