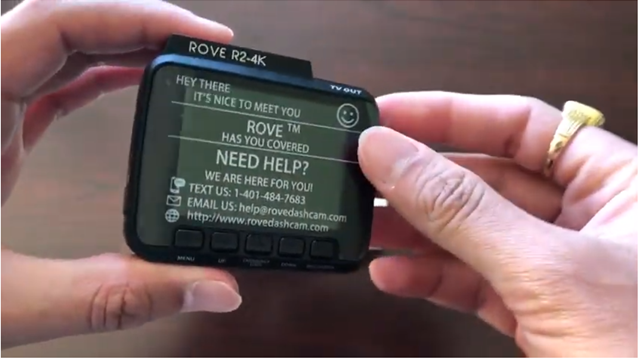 Hey, thanks for dropping by and welcome to our ROVE R2-4K Car Dash Cam Reviews. When you look at the ROVE R2-4K dash cam, you'll realize that all dash cams are not created equal. Added to that, the majority of the Rove R2-4K dash cam customer reviews, echoes the same sentiment; a great dashboard camera with all the bells and whistles. More importantly, it comes at an affordable price.
According to ROVE, the creator of this dashboard camera, their goal is to keep working hard to make innovative hardware and software for the camera to give you, the customer, that personalized experience. So did ROVE accomplish their goal? Well, truth be told, the ROVE R2-4K car dash cam is their best selling and highly rated dash cam.
What we love about it
Everything!
This dash cam has great features. It's discrete, comes with built-in Wi-Fi and GPS, as well as a voice alert function. It comes with advanced features and technology, but it won't break you bank. Be sure to check out the video below.
ROVE R2-4K Car Dash Cam Reviews
The R2-4K dashboard camera is today's most advanced and powerful 4K video car dash cam. It's designed to provide crystal clear 4K video for day and night and is user friendly.
It can record videos up to a resolution of 2160p and the ultra HD video recording quality is great and provides more clarity and quality images than other car dashboard cameras.
Features at a glance
The ROVE R2-4K Car Dash Cam includes the following features:
2.4″ LCD
150° Wide Angle with UHD 2160P
G-sensor
Loop cycle
Time lapse
Night Vision
Built-in Wi-Fi and GPS
Adhesive and Suction Mount
Ultra-low light Sensor NT96660 + OV4689
128 Micro SD card required
Now that's pretty great as far as features go and the technology is not too shabby either. Most dash cams don't come with built-in Wi-Fi and when they do, there is no GPS. Most often it's an either or situation. However, this dash cam has both.
The ROVE R2-4K Car Dash Cam is a pretty small camera that could neatly fit in the palm of your hand. It's not as small as the Garmin dash cams but it's small enough to be discrete, if you don't want people to know that you have a dash cam. Surprise!
ROVE R2-4K Dash Cam – Features & Functions
With the built-in WiFi you can use the ROVE App to instantly view and manage your dash cam recordings on your iOS or android device. If you use the App, then you can easily download your videos directly to your smart phone, and share them with your friends and family on social media.
Use the time lapse function to choose how you want to play and watch the images that were stored on the on the dash cam.
The built-in GPS records your driving location and speed. You can also use the GPS with the Wi-Fi to view your driving route and tracker on google maps. ROVE provides free Firmware upgrades for this camera so your dash cam is always up to date with the latest technology.
The technology being used in dash cam allows it to capture clear and vivid details of license plates and road signs during the day as well as the night. So you've got no worries there, since the technology allows it to record all the small details clearly.
In the event of an accident, the G-Sensor records data so you can see and prove when and where the incident occurred on google maps.
The 24-hours parking monitor system works on an internal battery and if someone hits your car, the camera turns on, records the video, then locks it and saves it. The next time you return to your car and start it, the camera gives you a voice alert stating "The parking mode got activated while you were away. " Check out the video below.
Video: ROVE R2-4K Dash Cam
ROVE R2-4K Car Dash Cam Customer Reviews
Now that you are more familiar with the ROVE R2-4K Car Dash Cam, we are sure that you agree that this dash cam is worthy of consideration. check out what some of the customers have been saying about it.
Easy to set up
Pretty good dash cam for the price
Worth the money all day long
Excellent customer service
Pros
Price
Discrete screen
Parking mode voice alert
Built-in Wi-Fi and GPS
Clear and vivid images
Super Night Vision
Time Lapse Video
Voice Guidance
Works with iOS and android device
Videos available
What we also like is the fact that ROVE has tons of videos available so yo can see exactly how to set-up and use your Rove R2-4K dash cam effectively. Be sure to check out one of the ROVE videos below and you'll see what we mean.
Cons
Small buttons
Micro SD card not included
The small buttons could be a challenge for some people. But when you think about it, that's an easy work around.
Editor's Note
Overall Amazon Customer rating for this dash cam is pretty good. It has a better rating than most single dash cams and the Voice Guidance makes it easy for you to set-up and navigate your Rove R2-4K dash cam.
The parking mode function definitely comes in handy, since you'll be alerted to the fact that something happened to your car while it was parked so you can check it right away.
having that function on a dash cam saves you time as you won't have to go through footage to check to see if anything happened to your vehicle while it was parked. It also facilitates quicker reporting if something did indeed happen to your car.
Okay, that's all from us on this ROVE R2-4K car dash cam review. Be sure to drop us a line in a comment section and let us know what you think about this dash cam or if you got one for yourself. In the mean time, be safe on the road.