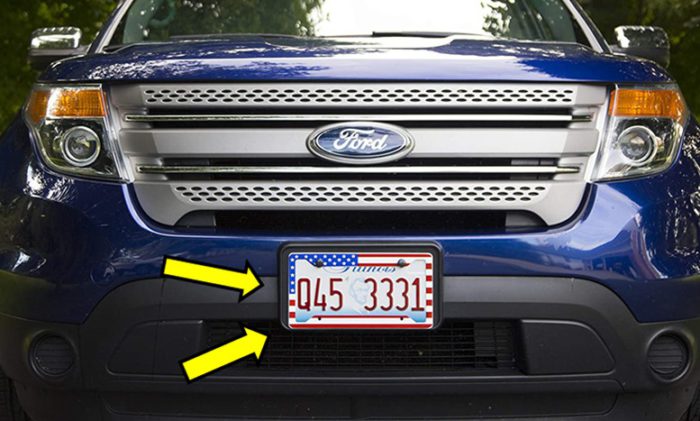 Add a bit of style and flare to your ride, with anyone of these American flag license plate frames. Bedazzling your license plate is a great way to add some pizzazz to your vehicle, and there are lots of designs to choose from. You can definitely find one that would suit your style and of course give you great value for your money.
Red, white and blue, are great colors! When you put them together, they make some really fantastic looking, decorative license plate frames. When it comes to customized license plate frames, the USA flag design, is just one of the many available options. But anyone of these flag frames would compliment your vehicle!
In addition to which, the options below are made in the USA, so shipping should be quick. Getting yourself one of these frames is a small but great way to support business in the USA. Don't you agree? Then you definitely need to check out the frame options below. If you want something different from the red, white, and blue, then click here to see more personalized frame options.
American Flag License Plate Frames
#1. International Tie Store Stainless Steel Frame
The plate frames from International Tie Store, are made with High Grade 304 Stainless Steel. These frames also come with the required screws and snap on caps. However, they do not come in a 2 pack like the Newzon patriotic license frame (mentioned below). This is a single license frame plate for the front or back of your vehicle.
Since these frames are made from high quality stainless steel, they'll be strong and durable. So these are not by any means, flimsy American flag license plate frames. Added to that, you won't experience issues of rust and corrosion.
International Tie is a USA-based, family-run company and they also offer other color options for license plate frames. The colors are painted on the frames, using high quality industrial inks that are fade resistant. The frame measures 12″ x 6″ which is applicable for most states. However, you may want to double check your car measurements to ensure that the frame will work with your vehicle. You may also want to ensure that the frame is street legal in your area.
#2. USA Patriotic Anodized Aluminum Thin Top
This particular frame has a narrow top with the American flag. They are created by Best License Plate Frames, and the frame is made from aluminum, not plastic. So this frame is also very sturdy and offers great quality. There is a thin blue line in the frame. However, you can have the color changed if you want something different. Once you place your order, simply send a follow up message with your request, and they would make that change for you.
This is a 4-hole Black Anodized Aluminum car license plate frame that also comes in the standard USA and Canadian size of 12″ x 6." It is American made, weather resistant, and will not fade, rust, or tarnish. Free screw caps are also included.
As can be seen, each frame has 2 tabs that are used to secure the frame in place. This prevents the license plate from rattling. All you need to do is simply use the provided screws to complete mounting the frame. Please note that this is not recommended for use in the following states: AL, CO, DE, IN, NH, NC and WY.
Keep in mind that the price includes 1 license plate frame only.
#3. Newzon USA Flag License Plate Frames
The Newzon USA flag license plate frame comes in a 2 pack and they are bedazzled with rhinestones. Talk about bedazzling your ride! This tricolor license plate frame has a 3D American flag design and comes with anti-theft screw caps. It is sparkly and made with high quality glitter diamond. As sparkly as it might be, it gives your vehicle a unique luxurious look.
Like the others, these frames are suitable for the majority of cars in the USA. You can put these frames on your SUV, Ford, Toyota, Audi, Nissan, Jeep, BMW, Buick, Mazda, Mercedes-Benz, Porsche, Lexus, or what have you. In general, these flag license plate frames actually make pretty good gifts for anyone, and they come in a 2-pack.
#4. Cruiser Accessories USA Flag License Plate Frame
The Cruiser USA flag license plate frame is made of plastic and has a chrome finish. It has an image of the USA flag and that image is made with UV resistant ink. As such, it protects the image from fading. One of the interesting things about this frame is that it is designed with slotted fastener holes. So it actually shows more of the license plate.
The frame is made from a chrome plated ABS plastic, and it has an unbreakable polycarbonate insert to protect the image from road debris. Like all the other frames, it is designed to fit the standard 6″ x 2″ license plates.
Overall, these decorative license plate frames are user friendly and easy to install. But even so, you want to use some level of care when you are assembling and installing them. Admittedly, any one of these American flag license plate frames would make for a very attractive addition to any vehicle, even if you have a vanity plate.