Hi and welcome to our APEMAN mini dash cam review. If you are in the market for a budget friendly and discrete dash cam, then check this baby out! The APEMAN C420 mini is a single front view dash cam that is very budget friendly. It's a 1080p HD quality camera and it provides a 170 wide angle view. That's definitely great coverage of the roadway ahead.
APEMAN Mini Dash Cam Review
This dash cam has a 2 inch LCD screen so if a budget friendly, mini, discrete dash cam fits your need, then this one is worthy of consideration. It comes under the Apeman brand, which is pretty popular. If you don't know by now, a dash cam is great to use to capture those unexpected and real time events that may occur while you're driving on the road. Dash cams capture events even when your vehicle is parked as well. So utilizing a dash cam is a great way to protect yourself in more ways than one.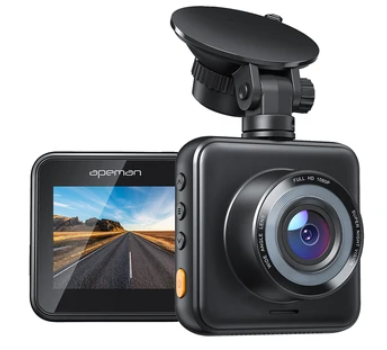 This APEMAN C420 mini dash cam can easily be mounted on your windshield. An added advantage is that others may not know that it's there. This dash cam is not bulky and it definitely won't obscure your view of the roadway. It's perfect for under your rear view mirror and it comes with lots of cable for an easy install into your vehicle.
This dash cam has a suction mount, so you can easily reposition it however you need to. The button operations are simple and user friendly, even for new users. Check out the video below for simple installation and setup!
Video: How to use APEMAN Mini C420 Dash Cam
The video below provides information on how to install and setup your APEMAN C420 mini dash cam.
Other Features
The APEMAN mini dash cam includes features such as:
Motion detection,
Parking monitoring,
Loop recording and G-sensor.
With 24/7 monitoring, the dash cam automatically starts recording when it detects a collision or shake. So it provides you with you with security at every moment. When the loop recording and G-sensor are turned on, the dash cam overwrites the oldest videos to ensure continuous recording. If any shock or collision is detected, the camera locks the video to prevent it from being overwritten.
If you watched the video above, then you would have seen just how easy it is to set up. It takes just about 2 minutes to do that; from unboxing to installation. Once your vehicle engine is turned on, the C420 dash cam starts recording automatically.
This 1080P high definition dash cam is discrete, budget friendly, easy to set up and would definitely satisfy your daily driving requirements. So that's it for our APEMAN mini dash cam review. Hey, if you are looking for a discrete, no frills, easy set up and go dash cam, then the APEMAN C420 mini is definitely recommended.
Note: APEMAN dash cams were previously sold on Amazon.com. However, you can now purchase this APEMAN mini dash cam and their other products directly from their website.