If you are looking for a dash cam to fit your need, then check out our APEMAN dash cam reviews and recommendations. When it comes to dash cams, the APEMAN brand is definitely worthy of consideration. It's a brand you can trust and these dash cams would fit anyone's budget.
Is Apeman a Good Dashcam?
Perhaps you are probably wondering if Apeman a good dash cam, or if it is a good brand. Well, just in case you did not know, Apeman is a reliable brand. APEMAN is one of the most reputed brands when it comes to engineering premium camera products. Apart from dash cams, Apeman provides excellent quality cameras for sport action cameras as well as trail cameras.
With reference to dash cams, their goal is to provide their customers with peace of mind as well as driving comfort. Hey, the way some people are driving these days, peace of mind and driving comfort are essential for anyone who is on the road. Don't you agree? Okay, let's get to it!
APEMAN Dash Cam Reviews
There are a variety of APEMAN dash cams available at the moment. However, choosing one for yourself depends on your budget, need, and of course your lifestyle. You can also choose a single or a dual Apeman dash cam. Of course a dual dash cam captures more.
Even so, each APEMAN dash cam has all of the same functions such as super night vision, motion detection, parking monitoring, G-Sensor, and Loop Recording. They all use the same 1.8 aperture, however that's where the similarities end. There are a few variations with a few of the models; variations that make the dash cams better.
Our hope is that this APEMAN dash cam guide, would help you select the best APEMAN dash cam that fits your need.
Since APEMAN carries both single and dual dash cams, we have separated them accordingly to make it easy for you. That way you can determine at a glace, which one fits your need. The single dash cam reviews are presented first, followed by the dual dash cam reviews.
Apeman dash cams reviewed in this article includes the following:
C450 Apeman 1080P dash cam – Best seller
Apeman Mini dash cam – C420
Apeman Dual Dash Mini – C420D
C860 – Apeman 1440P & 1080P Dual dash cam – Best seller
C770 Max Dual dash cam – Best customer rating
Of course our favorite is the APEMAN 4K Max dual dash cam, since it's got more features than the others and it just makes more sense. It's a favorite with Amazon customers as well.
Update: It seems that Apeman dash cams are NOT available on Amazon at the moment. However, you can go directly to their website to check out any one of these quality dash cams.
Okay, so let's get to the details of these dash cams, so you can see which APEMAN dash cam is right for you.
More for You:
Camera Type:
Single

APEMAN Dash Cams

As far as the single APEMAN dash cams go, you've got two options; the APEMAN C450 and the Mini C420 dash cam. Check out the features at a glance in the table below.
| | | |
| --- | --- | --- |
| Particulars | APEMAN Dash Cam 1080P | APEMAN Mini Dash Cam |
| Model Number | C450 | C420 |
| Screen Type | 3.0 inch LCD | 2.0 inch TFT LCD |
| Wide Angle | 170 degrees | 170 degrees |
| Sensor | Starvis Sensor | Starvis Sensor |
| Installation Method | Suction Mount + 3M Adhesive | Suction Mount |
1. APEMAN C450 1080P Dash Cam
Now this may not be the best dash cam on the market but looking at the features at a glance, it meets the basic driving needs. While it's not a dual dash cam, it's got most of the qualities needed in a dash cam. Given the price, it's worth it! This is one of the most affordable dash cams and most likely that's one of the reasons why it's popular with Amazon's customers.
The APEMAN C450 dash cam includes all the features you need and expect from a dash cam and it won't cost you an arm and a leg like other dash cams on the market. It is a simple and easy set up, so you can use this dash cam as soon as you receive it!
While being sold on Amazon, this single dash cam is pretty popular among Amazon customers. It was actually one of the best sellers on Amazon.
2. APEMAN C420 Mini Dash Cam
The C420 Mini Dash Cam has all of the same functions as the 1080P single dash. However, it is a smaller camera so it's more discrete. It has a smaller screen size of 2.0 inches and like the C450, also gained in popularity with Amazon customers.
This dash cam has a simple suction mount installation, whereas the APEMAN 1080P has two mount options; a suction mount, as well as a 3M adhesive mount option.
Now any one of these single lens dash cams make a great choice. More importantly, they'll fit any budget as well. However, if you want a more a discrete design, then the APEMAN mini is the one you want.
Camera Type: APEMAN

Dual Dash

Cams
There are three (3) APEMAN dual dash cams to choose from. Check out the features at a glance in the table below.
Particulars
APEMAN Dual Dash Mini
APEMAN 1440P&1080P
APEMAN 4K Max
Model Number
C420D
C860
C770
Screen Type
2.0 inch TFT LCD
3.0 inch IPS
3.0 inch OLED Touch Screen
Wide Angle
170° (Double lens)
170° (Double lens)
170° (Double lens)
Video Resolution
1080P FHD + 720P HD
1440P QHD + 1080P FHD
2160P WQHD (Single)/
1080P FHD (Dual Lens)
Sensor
Starvis Sensor
Sony IMX335
Sony IMX335
Installation Method
Suction mount + 3M Adhesive
Suction mount + 3M Adhesive
3M Adhesive
Wi-Fi + GPS
3. C420D Mini Dual Dash Cam
The APEMAN C420D dual dash cam is a lightweight, mini design of the previous single dash cam. You can easily hide this mini dash behind the rear view mirror of your car. The new design makes it more comfortable and user friendly even though it has a smaller screen than the other two dual dash cams. It also uses the Starvis Sensor like the single dash cams.
While you don't get a 360 degree view, this dual dash cam gives you more road coverage with front and rear 170 degree lens.
4. APEMAN C860 1440P&1080P Dual Dash Cam
This Apeman dash cam was also one of Amazon's best selling dash cam. Based on the features, it's easy to see why this dual dash cam was popular among Amazon customers.
It has 3″ screen and it uses the advanced Sony IMX335 sensor. This gravity sensor is more sensitive and will automatically lock any unusual vibration or sudden collision footage to an "Emergency File."
5. C770 4K Max Dual Dash Cam
Overall, this dual dash cam had the best Amazon customer rating. When you look at the features at a glance, it's pretty obvious why. It comes with a touch screen interface so you don't have to fumble with small buttons. This is to your advantage, as an easier interface reduces the possibility of distractions as well.
In addition, it comes with GPS and Wi-Fi. So if you want a dash cam with these additional features, then the APEMAN C770 Max is a great choice.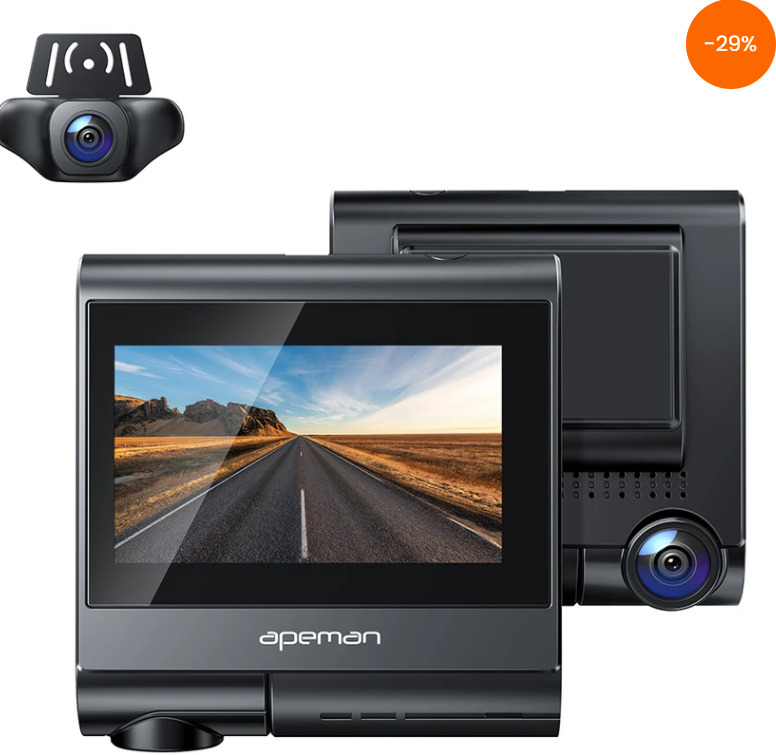 There are advantages to the OLED screen as well. This type of screen provides less power consumption as opposed to the LCD screen. You also get better viewing angles, and better color contrast ratio. That means you'll get better image quality and that's an important feature in any dash cam.
Similar to the C860, it uses the advanced Sony IMX335 sensor so it provides better picture quality and night vision. It also has additional functions such as Time lapse, WDR, and Snapshot, etc.
You can use the built-in GPS and Wi-Fi to check your location, direction, speed, date, and time and you can download your recorded videos to your mobile devices and of course share them. You can record in 4K ultra using the single lens mode or record in dual 1080P full HD video mode.
Wrap Up – Apeman Dash Cam Reviews
The APEMAN Dash Cam reviews provided by customers are pretty insightful. Even if this is your first foray into using a dash cam, APEMAN is a reliable and trusted brand that is suitable for anyone. Each one of these dash cams are very easy to set up. They all come with a complete set of accessories and are ready for your immediate use. The recommended settings are already set, so all you need to do is change the date and time to get started.
Recommendations
Sure enough you want value for your money. Then again who does not? While there are a variety of dash cams on the market, with so many choices, sometimes it's hard to make the right decision. The APEMAN C450 1080P is pretty popular and at the price, it's worth it!
A dual dash cam is definitely worth considering, since stuff happens behind your car as well. Added to that, you can also use the rear camera as a backup camera. So a dual dash cam is the perfect insurance for your car.
Keep in mind that the key features you want in any dash cam includes clarity, good pictures or image quality, and night time vision, which all of these dash cams provide. But you also want a quality product and one that would provide the service for your investment. 
That's why we recommend the APEMAN C770 4K Max Dash Cam. It might cost a bit more, but it gives you way more functions and security while you are on the road. View it here.