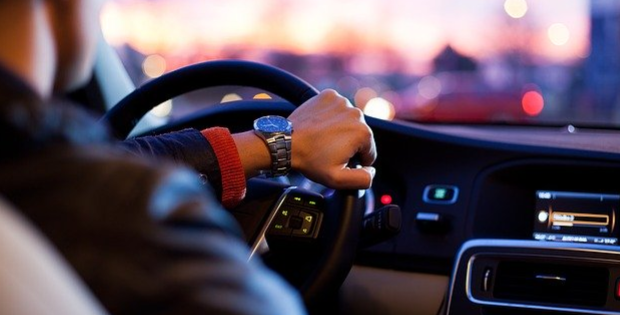 The Valleycomfy steering wheel cover is a great choice if you are looking for a sturdy yet comfortable steering wheel cover for your vehicle. The cover on my steering wheel started disintegrating; not sure I can actually call it a steering wheel cover. LOL. But it worked.
It's one of those thin layer steering wheel covers that keeps the steering wheel cool and it came with the vehicle when I bought it a few years ago. However, it got a bit of a rip when I took the vehicle for a service and that rip kept expanding. So of course it was time to change it and the Valleycomfy Steering wheel cover is my cover of choice.
Valleycomfy Steering Wheel Cover
First of all, it's reasonably priced and it gives you a great grip. More importantly, at least to me, it's 100% odor free. So I don;t have to expose myself to that leather smell day after day.
It's top quality and it's a heavy duty genuine leather steering wheel cover. You can get these steering wheel covers in three (3) sizes; small, medium, and large. That means that you can be comforted that you'll find a size to fit your steering wheel. All the measurements are listed as well, so you are covered.
There are several colors you can choose from. So if the standard black and red (stitching), sporty look does not do it for you, then you've got other options. It's an easy install, but if you don't know how to put it on, then it'll be a bit of a challenge.
You get a really good reliable grip of the steering wheel so you have better control and that's great in terms of safety. What I also like about it is the look and feel of it. This leather steering wheel adds a look of luxury and puts some style in your ride! It's also soft, comfortable, and easy to hold.
Summary
Universal
Genuine Leather
Anti Slip
Odor Free
Top Quality
Great price
But don't just take my word for it. Other customers are loving it as well, and that says something. For some customers, the Valleycomfy steering wheel cover has actually exceeded their expectations.
More: Best hands free cell phone devices for cars
This steering wheel provides a nice tight fit, which is good, because leather stretches with time. The reason I am mentioning the tight fit, is that it might be a bit of a challenge to put it on, if you are not sure how to to that. But just work at it, a little bit at a time and you'll get there.
It gets easy as you go along but as you proceed it gets tight so you want to make sure everything is lined up accordingly before you get started. If you don't get it right the first time, that's okay too. Just keep on trying.
To keep your steering wheel in good condition, you can use a leather conditioner. The Leather Honey leather conditioner is a great choice. It's made for leather, including your auto interior. So you can also use it on your other leather items as well. You can use it on shoes, furniture, bags, accessories or any other leather apparel you might have. More importantly, it's non-toxic!
So check out the Valleycomfy steering wheel cover if you need to change yours! Click here to see it on Amazon.
More for you. Check out our other recommendations for your car accessories: