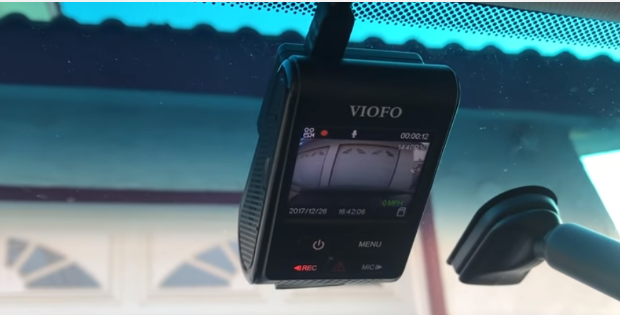 If you are looking for a dash cam with good heat resistance, then the VIOFO Compact A119 V2 is a great choice. While it's not a dual dash cam, it just might be the perfect forward-facing video recording camera for you!
One of the great things about this dash cam is that it comes with a capacitor instead of a battery. This makes it much more heat resistant. That means you don't need to worry about your dash cam malfunctioning due to the heat. You also have multiple recording options and it is user friendly.
VIOFO Compact A119 V2 Car Dash Camera Review
It's well hidden behind the windshield, so it eliminates distraction while driving. It also does not interfere with the original style of your vehicle.
Features at a glance:
2" LCD Screen
Excellent Night Performance
G-sensor, Motion Detection
Loop Mode, Auto Start/Stop
Vehicle Identity Text
Microphone & Speaker Built-in
GPS Logger: Included​-Built Into Mount
The VIOFO A119 V2 is the budget dash camera. It comes with high-quality components and a sleek and stealthy design. It can easily be the top end video quality that you have been waiting for.
You also get great day and night time quality imaging as well. The VIOFO Compact A119 V2 dash cam is also easy to use. It attaches to your windscreen using a Quick Eject V2 GPS mount or you can use the regular adhesive mount.
While the micro SD card is not included, you need to format the card before use. Even if you forget, you'll get a reminder to do so, as this dashboard camera comes with an alert system for just those sort of things. It stores up to 7 hours of HD video and supports 32GB, 64GB, and 28GB memory cards. So you've got options.
You've got lots of options to chose from when it comes to VIOFO dash cams. Once you receive the product, it is recommended that you update the latest firmware. Doing this ensures you have the latest enhancements.
There are two ways in which you can power on your VIOFO A119 V2 dash cam. You can get a fuse connector or you can use the USB adapter with the cigarette lighter. It works well either way, but it all depends on the kind of look you want. For example, some people would rather not see hanging cable connections. So in that case, the fuse connector is better. The added advantages is that you can power on the dash cam without starting up your vehicle.