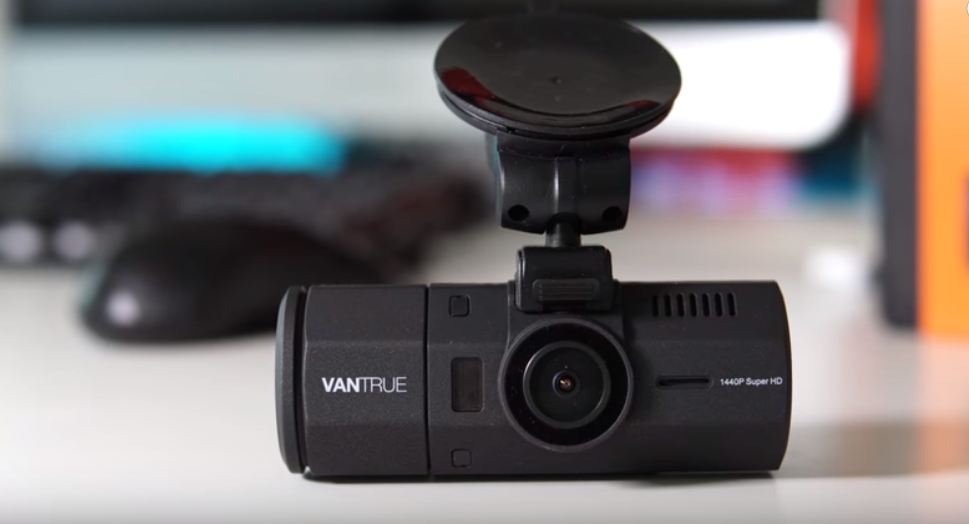 If you are thinking of becoming an Uber driver or you are a Lyft/Uber driver then having a Vantrue N2 Pro Uber dual dash cam in your vehicle would be in your best interest.
While a picture may be worth a thousand words, think of what a video might be worth to you, if you find yourself in a he said/she said position for a fender bender. You definitely want to make sure that you've got the proof you need, if you should be wrongly blamed for something.
Vantrue N2 Pro Uber Dual Dash Cam Review
Even if you are not an Uber driver, you can use the Vantrue N2 Pro Uber Dual Dash Cam to keep tabs on what's going on outside and inside your vehicle. If you've got kids you need to keep an eye on while driving, then this is a good choice.
But overall, this dual dash cam is a great choice for anyone. The snapshot below shows what the front view from this dual dash cam looks like. Check out the features below!
Product Features
Dual 1920x1080P Front and Cabin Dash Camera
Infrared (IR) capable camera
24 hours recorder parking mode
Microphone & Auto LCD OFF
Loop Recording & G-Sensor
Optional GPS function
Supports up to 256GB microSD cards
This baby comes with front and rear facing cameras so that you can capture what's going on in and around your vehicle. You can easily capture the road ahead of you at a 170° and inside your vehicle at a 140° in crystal details.
If you need a camera that works in complete darkness, then this dual dash cam is your pick. It has a built in infrared light source. So you can be assured that you'll get a good view from inside your car at night time. See Snapshot below for night time cabin view.
This dash cam automatically records once motion is detected in front of your vehicle, even if you are in park mode.
The built in microphone provides excellent audio recording. The auto LCD OFF switch means you won't be disturbed by another glowing rectangle on your windshield.
Once your SD card is filled, the oldest footage will be overwritten with the newest. The G-sensor automatically detects any sudden shake or collision and locks the footage to an "Event File" to prevent the event from an overwrite.
With the GPS function you can track the driving route, location, or speed of your vehicle. However, to use the GPS function, an extra GPS mount needs to be purchased.
It is recommended that you use the Samsung Evo card.
Overall customer rating 4.3 out of 5 Stars!
See it in action
The snapshot below shows the the Vantrue N2 Pro Uber Dual Dash Cam cabin view at night. The image quality is very clear from the inside. So too is the view of the outside. Clearly this camera's Infrared (IR) capability works really well. That makes it a great dash cam for night time.

Pros
What we love about the Vantrue N2 Pro Uber Dual Dash Cam:
Compact size
Easy installation
Great video quality
Full 18 month Warranty
Perfect for other vehicles.
Ideal for most climates.
This dash cam works with 12V & 24V cars, trucks, semi trucks, buses, SUVs, or big rigs. Depending on the climate, some dash cams don't function very well. However, the Vantrue dash cam can handle temperatures ranging from -4° to 158°F (-20° to 70°C).
Cons
Recommendations
You definitely need to handle the mount with some care. So don't permanently install your Vantrue N2 Pro Uber Dual Dash Cam until you know exactly where you want to install it. That being said, a smaller and more durable mount would be ideal for this camera
Across the board, dash cams malfunction in one way or another. While you've got an 18 month warranty on this product, it can be a bit frustrating getting in touch with their customer service.
On the other hand, you've got a safeguard purchasing it from Amazon. If you've got problems with the unit on the onset, then you can simply return it to Amazon and request your refund.
Final Verdict
After reading this Vantrue N2 Pro Uber Dual Dash Cam Review, it's clear to see why this is one of Amazon's best selling dash cam. It's one of the best dash cams to record inside as well as outside your vehicle. Dealing with the recommended improvements is definitely a step in the right direction.
All dash cams are not created equal, but this dash cam provides great quality images. While you definitely want to consider what you need before making a decision, great quality image is one of the things you want to look for when buying a dash cam.
The Vantrue N2 Pro Uber Dual Dash Cam is not just for Uber drivers but taxis, rideshare, Lyft drivers, commuters, and families alike. However, if you are an Uber driver, then this dash cam will definitely meet your needs in more ways than one.