Hey fellow road explorers welcome to our Vantrue N4 3 Channel 4K Dash Cam review. Looking for a trusty sidekick to capture every scenic drive, unexpected twist, and hilarious road trip moment? Then you definitely need to check out this 3 Channel 4K Dash Cam for your new road companion.
This Vantrue N4 Dash Cam review is your front-row pass to discovering how this sophisticated piece of tech is designed not only to capture the road ahead but to redefine your road trips.
Vantrue N4 3 Channel 4K Dash Cam
Vehicle Service Type: car, truck
Special features: Parking mode, Built in microphone, Motion detection, Collision detection, Auto LCD OFF
Field of View: 360 Degrees
Vantrue N4 3 Channel 4K Dash Cam Review
Say farewell to those forgettable moments and hello to a world of captured memories. The Vantrue N4 Dash Cam is about to take your driving experience to a whole new dimension.
Why Consider This Product?
It's a glimpse into the future of dash cams! Imagine having not one, not two, but three lenses recording your drive in stunning 4K clarity.
The Vantrue N4 Dash Cam boasts a unique triple-lens setup, capturing not only the road ahead but also the cabin and rear views simultaneously.
No more "Did you see that?" moments going unnoticed.
Plus, its wide dynamic range technology ensures crystal-clear footage even in challenging lighting conditions.
Features and Benefits
Check out the features and benefits that can elevate your driving experience.
Triple-Lens Marvel
With a front camera to capture the road, an interior camera to record your car's cabin, and a rear camera to keep an eye on what's behind, this dash cam is like having a set of vigilant eyes all around you.
4K Ultra Clarity
The road deserves the best resolution, and the Vantrue N4 delivers just that. Experience the road in breathtaking 4K quality that makes every journey a visual delight.
Night Vision Like Never Before
The N4's enhanced night vision feature ensures that even the darkest of nights won't hide your journey's most intriguing moments.
Seamless Loop Recording
Worried about running out of memory? Fear not! The loop recording function ensures that your memory card always has space for the latest adventures.
Built-In GPS
Lost in the moment and the maze of roads? The Vantrue N4 has built-in GPS so it keeps track of your route, speed, and location, turning your drive into a digital adventure that you can relive anytime you want.
G-Sensor for Peace of Mind
In the event of an impact, the built-in G-sensor locks and saves the footage, safeguarding your evidence and ensuring your peace of mind.
User-Friendly Setup and Maintenance
Don't let the tech jargon intimidate you. Installing and maintaining the Vantrue N4 dash cam is a breeze, making it a friendly companion for both tech enthusiasts and novices.
Product Quality
This dash cam is crafted for the road warrior! Crafted with precision and care, the Vantrue N4 Dash Cam isn't just a device, but it's a testament to quality engineering.
It has a sturdy build which ensures it can handle the bumps and jolts of the road, while its advanced features showcase the brand's commitment to excellence.
Vantrue's reputation for crafting high-quality devices isn't just hearsay.
The N4's sturdy build and top-notch materials ensure that it's not just a fair-weather friend. Rain or shine, rough roads or smooth highways, this dash cam's durability is as steadfast as your desire for epic road trips.
What It's Used For
Beyond a dash cam. Think of the Vantrue N4 Dash Cam as your road diary, chronicling your adventures, close calls, and amusing encounters. It's your silent co-pilot and wheel witness that captures the essence of every journey, transforming your car into a storytelling machine.
Sure, the Vantrue N4 is designed for the road, but its versatility knows no bounds.
Imagine using it as a time-lapse camera during your camping trips, a security camera for your parked car, or even as a vlogging companion to document your journeys with flair.
Product Specifications
Unveiling the tech specs:
Front Camera: 4K resolution
Interior Camera: 1080P resolution
Rear Camera: 1080P resolution
Wide-angle lenses for comprehensive coverage
24-hour parking mode
2.45-inch LCD display
Viewing Angle: Front 155°, Inside 165°, Rear 160°
Storage: Up to 256GB (microSD card, not included)
Who Needs This
A dash cam is a must have for every driver. If you are a passionate traveler, a daily commuter, a safety-conscious parent, or someone who just loves the open road, then the Vantrue N4 Dash Cam is your indispensable companion.
It's for those who believe that every journey is worth preserving and sharing. This is especially useful for Rideshare, Uber, and Lyft drivers because you just never know who you are picking up. So it's better to be safe that sorry.
Pros and Cons
Pros:
Triple-lens setup for comprehensive coverage
4K clarity for stunning visuals
Enhanced night vision for superior performance after dark
User-friendly installation and maintenance
Reliable G-sensor for impact protection
Versatile usage beyond driving
Built-in GPS
Sturdy build for durability
Cons:
High-resolution recording may require larger memory cards
Rear camera installation might need some patience
FAQs About the Vantrue N4 3 Channel dash cam
Answers to the frequently asked questions about the Vantrue N4 3 channel dash cam.
Q. Can I view footage from all three cameras simultaneously?
Yes, the N4's three-channel recording can be viewed simultaneously, offering a comprehensive picture of your drive.
Q. Can I install the N4 myself?
Absolutely! The installation process is designed to be user-friendly, even if you are not tech-savvy.
Q. How is the night vision performance?
The N4's night vision is exceptional, ensuring clear footage even in low-light conditions.
Q. How does the loop recording work?
Loop recording automatically overwrites the oldest footage when your memory card is full, ensuring you always have space for new recordings.
Q. Is a separate power source required for the interior and rear cameras?
No, the N4 Dash Cam is designed to power all three cameras through a single connection.
Q. Does the dash cam support parking mode? Absolutely! The Vantrue N4's parking mode ensures your car's safety even when you're not around.
Q. Can I view the footage on my smartphone?
Indeed! You can connect your smartphone via Wi-Fi and easily access the recorded footage.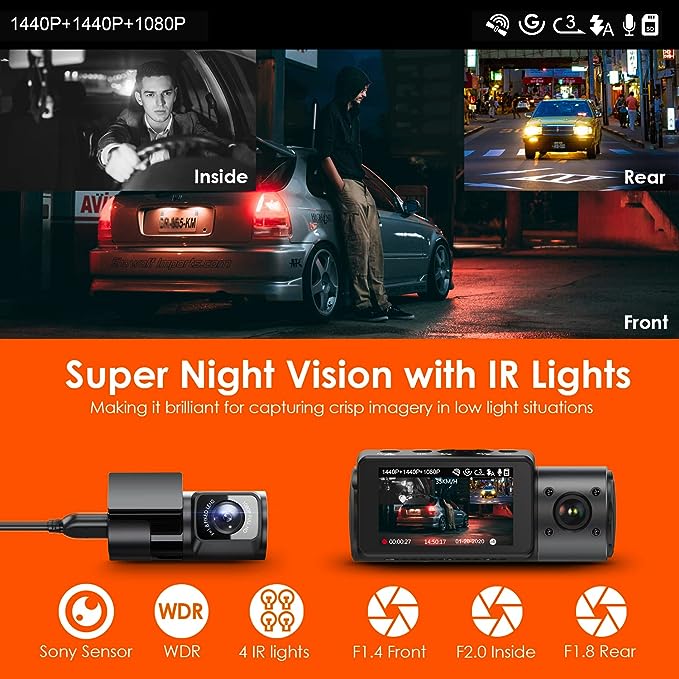 What Customers Are Saying
Real experiences, real satisfaction.
Customers are raving about the Vantrue N4's exceptional clarity, easy installation, and reliable performance.
From capturing breathtaking scenic drives to providing crucial evidence in unforeseen incidents, this dash cam has left drivers impressed and feeling secure while on the road.
Overall Value
The Vantrue N4 3 Channel 4K Dash Cam isn't just a gadget, it's a roadside marvel.
it's a companion that transforms your everyday drive into a cinematic adventure. The dash cam provides unparalleled clarity, has robust features, a user-friendly design, and it's an investment in both safety, peace of mind, and valuable memories.
Tips and Tricks for Best Results
Here's how you can unleash Vantrue N4's full potential.
Regularly format your memory card to maintain optimal performance.
Adjust camera angles to ensure the best field of view.
Keep the lenses clean for clear and crisp recordings.
Opt for a high-capacity microSD card to ensure ample storage for your journeys.
Final Thoughts
Product Summary
The Vantrue N4 Dash Cam is the ultimate road guardian, capturing every moment with stunning clarity and comprehensive coverage.
Final Recommendation
Whether you're an avid traveler, a safety-conscious parent, or simply someone who loves a good road trip, the Vantrue N4 3 Channel 4K Dash Cam is a must-have addition to your driving arsenal.
Embrace the power of technology to safeguard your journeys and create lasting memories – it's time to let the road guardian ride shotgun.
So, there you have it. The Vantrue N4 3 Channel 4K Dash Cam isn't just a gadget; it's a journey-enhancing, safety-boosting, memory-capturing marvel that's ready to hit the road with you.
Why not take the opportunity to revolutionize your driving experience? Get your Vantrue N4 Dash Cam today and unleash the power of the road guardian!