Hi and welcome to our 3M Clear Bra Scotchgard paint protection review! If you did not know, paint protection film is a great way to protect your vehicle from possible damage by stones, sand gravel, or any other kind of road debris or contaminants.
This 3M film is 8 mil (0.008 ") thick and almost invisible on the painted surface of your vehicle. It has a transparent top-coat finish, which allows the transparent bra to shine like your vehicle's paint. Check out the pic of the BMW below. Can you tell that it has clear bra Scotchgard paint protection on it? Well it does!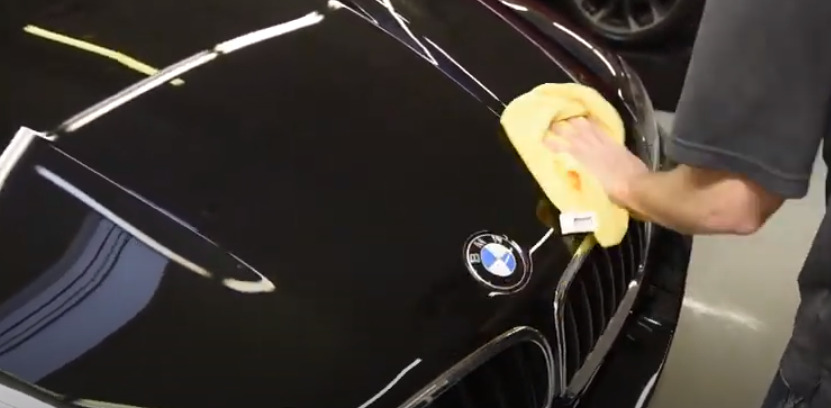 The 3M Clear Bra Scotchgard Paint Protection Film
If you know anything about 3M, then you know that they are all about quality and innovative products. This 3M clear bra is just as innovative and an equally quality product for any car lover, who might be looking to protect their prized possession.
Traditional protective bras are not exactly the most attractive option. However, with the 3M bra Scotchgard paint protection film, you can protect your investment while still revealing its perfect finish.
The 3M clear bra protects your car by creating a colorless barrier between the car's finish and the elements it may be exposed to. It is a protective film that is literally "painted" over the the car's exterior. This product is commonly used by vehicle owners who cringe at the thought of any kind of debris getting close to their prized automobile. Bike owners use it as well.
Protect Your Headlights Too
You can use the 3M clear bra to protect your vehicle headlights as well. The protective film is frequently applied to the front of the vehicle as well as on the headlight lenses. The beauty of this clear film is that it is virtually undetectable. It does not change the design of the vehicle in any way. And you get peace of mind knowing that your car is protected. You also have the luxury of keeping and enjoying your vehicle in its original state.
Effective Protection
Wondering if the product is effective as the traditional protective cover? Well, it's better! Dings and damage can cause the paint to chip. The 3M clear bra Scotchgard will protect your vehicle from chipping. Believe it or not, the material was actually originally designed to be used on aircraft propellers to protect them from chipping. So you do not need to worry there, as it is just as effective at preventing chipping on vehicles as well.
Virtually Undetectable
As you can see in the picture above, the 3M clear bra is virtually undetectable on the vehicle. However, that could depend on the color of the vehicle. For example, if your vehicle is very white in color, then the film may show up. Even though the coat is clear, it is slightly visible close up, on a car that is stark white in color. So you'll see a faint line where the clear bra stops. But not from a distance.
How to Apply the 3M Clear Bra
Although step by step installation instructions are available online, some people experience difficulty applying the clear bra o their vehicles. If you are not sure how to apply the 3M clear bra Scotchgard film on your vehicle or bike, then you may want to watch the video below.
Check out this video to see how the Scotchgard Paint Protection was applied. It's easier than you think and it's a cheap alternative to protect your prized possession.