Hey there, speedsters and thrill-seekers! In this review, we look at the Escort Max 360 laser radar detector. Are you tired of getting caught in the radar trap while trying to satisfy your need for speed?
Well, buckle up, because we are about to dive into the ultimate solution that will make you feel like James Bond on the road – the ESCORT Max 360 Laser Radar Detector.
Get ready to say goodbye to those heart-pounding moments when you spot a police car in your rearview mirror.
With the ESCORT Max 360, you'll not only stay ahead of the curve but also give those speeding tickets a run for their money!
ESCORT Max 360 Laser Radar Detector
GPS, Directional Alerts, Dual Antenna Front and Rear, Bluetooth Connectivity, Voice Alerts, OLED Display, Escort Live
Why Consider This Product
Why not outsmart those speed traps in style?
Picture this: you're cruising down the highway, wind in your hair, music blasting, and suddenly, you see those flashing lights. Ugh, there goes another ticket.
But hold on! The ESCORT Max 360 Laser Radar Detector is here to be your road trip wingman.
It's like having a radar-dodging ninja by your side, alerting you to all the sneaky speed traps and red-light cameras. You'll transform into a savvy driver who's always a step ahead of the law.
Features and Benefits
So check out the arsenal of this road warrior.
360-Degree Protection
This bad boy doesn't just watch your back; it covers your sides and front too! Its 360-degree radar and laser detection ensures you're covered from all angles, giving you the ultimate confidence to step on the gas.
Bluetooth Connectivity
Sync the detector with your smartphone via Bluetooth, and you'll be connected to a real-time community of fellow drivers who share live updates about upcoming speed traps and hazards.
It's like having a secret society of road-savvy friends.
Directional Alerts
Ever wished your radar detector could tell you where the threat is coming from? The Max 360 does exactly that.
It gives you directional arrows that point you toward the source of the signal, so you can react strategically and stay incognito.
Exceptional Range
With a detection range that seems to stretch into infinity, you'll have ample time to adjust your speed and avoid those unwanted fines.
It's almost like having a sixth sense for law enforcement!
Sleek Design
Unlike clunky eyesores that clutter your dashboard, the Max 360 boasts a sleek and modern design that complements your car's interior.
It's not just a gadget; it's a statement.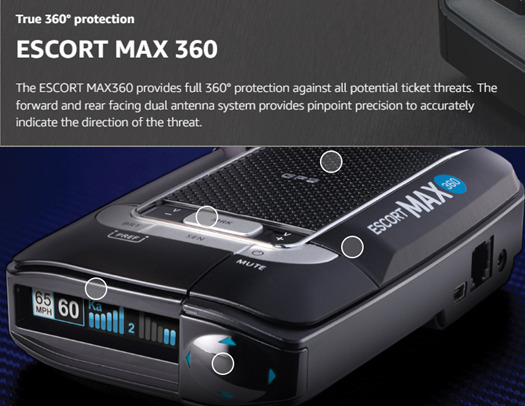 ESCORT Max 360 Laser Radar Detector
360° Alert Arrows
Defender Database
AutoLearn Technology
ESCORT Live APP
Dual Antenna System
Ease of Use and Maintenance
Let's face it, no one wants to fiddle with complicated gadgets while driving.
The Max 360 gets you up and running in a jiffy. All you need to do is clip it onto your windshield, pair it with your phone, and voilà!
Maintenance? Oh, it practically takes care of itself. Just wipe it down occasionally to keep it looking slick. It's all bout driving without the hassles.
Product Quality: Cutting-Edge Tech at Its Finest
When it comes to radar detectors, ESCORT is the crème de la crème, and the Max 360 lives up to that reputation.
Crafted with precision, this device combines advanced technology and a robust build to provide you with unwavering reliability.
What It's Used For: Your Ultimate Co-Pilot
The ESCORT Max 360 Laser Radar Detector isn't just about avoiding tickets; it's about taking control of your driving experience.
Whether you're embarking on a road trip, zipping through the city, or cruising down the highway, the Max 360 is your trusty co-pilot that ensures your journey is smooth, exciting, and ticket-free.
Product Specifications
Dimensions: 5.4 x 3.5 x 1.4 inches
Weight: 1 pound
Detection Range: Up to 5 miles
Display: Multi-color OLED
Connectivity: Bluetooth
Power Source: 12V car adapter
Who Needs This?
All hail the speed enthusiasts!
If you've got a need for speed coursing through your veins, then the ESCORT Max 360 is your go-to gadget.
From sports car enthusiasts to weekend road trippers, this radar detector ensures that everyone enjoys the thrill of the open road without the anxiety of unexpected fines.
Pros and Cons: Let's Break It Down
Pros:
360-degree protection
Directional alerts for precision
Bluetooth connectivity for real-time updates
Sleek and modern design
Exceptional detection range
Cons:
Premium price point
Requires smartphone for full functionality
FAQs – Your Burning Questions, Answered!
Let's answer those burning questions, shall we?
Is the ESCORT Max 360 legal to use?
Absolutely! Radar detectors are legal in most states, with a few exceptions. Check your local laws to be sure.
Can I update the device's software?
Yes, the Max 360 can be easily updated via the ESCORT website, ensuring you always have the latest features.
Does it work in all weather conditions?
Yes, the Max 360 is built to withstand various weather conditions, so you're protected rain or shine.
Can it filter out false alarms?
Yes, the Max 360 utilizes advanced filtering technology to minimize false alerts, giving you accurate notifications.
How do I mount the detector on my windshield?
The Max 360 comes with a windshield mount and a sticky cup for easy and secure attachment.
ESCORT Max 360 Laser Radar Detector
GPS, Directional Alerts, Dual Antenna Front and Rear, Bluetooth Connectivity, Voice Alerts, OLED Display, Escort Live
Customer Reviews: The Proof Is in the Pudding
Customers can't stop raving about the ESCORT Max 360.
One reviewer exclaimed, "I've never felt more in control while driving. This thing is like having a personal radar guardian!"
Another user praised its accuracy, saying, "It saved me from so many speed traps; it's practically paid for itself!"
See: Escort Max 360 MKII radar and laser review
Overall Value: Driving Confidence Redefined
With the ESCORT Max 360 Laser Radar Detector, you're not just buying a device; you're investing in peace of mind and a newfound sense of control over your driving experience.
The value it brings is immeasurable, considering the countless tickets you'll dodge and the thrill of the road you'll enjoy.
Tips and Tricks: Maximize Your Radar-Dodging Skills
Pair with your smartphone for real-time updates
Regularly update the device's software for optimal performance
Mount the detector high on your windshield for better visibility
Familiarize yourself with the different alert tones to react swiftly
ESCORT Max 360 Laser Radar Detector Review
Final Thoughts
While you don't need to challenge speed limits, the ESCORT Max 360 Laser Radar Detector is your secret weapon if you accidently do so.
It's the driving accessory that transforms your ordinary commute into an exhilarating adventure.
Say goodbye to speeding tickets and hello to the thrill of the road. Unleash your inner maverick and make every drive an unforgettable experience.
Final Recommendation: Get Yours Today!
Ready to take control of your driving destiny? The ESCORT Max 360 Laser Radar Detector is your ticket to speeding without the worry.
Don't wait for another flashing police light to ruin your day. Grab the Max 360 and hit the road with confidence. It might be your journey, but you don't always have to break the rod rules. But just in case you do, you should definitely get your ESCORT Max 360 now!
Be sure to check the laws in your state for more information about using a radar detector.